Maserati Biturbos For Sale

1985 Maserati Biturbo E-Model and 1986 Maserati Biturbo 425 and nearly enough spare parts to assemble another car. The E-Model is the running car. It is a 2-door with manual transmission. The 425 does not run and is partially disassembled. It is a 4-door automatic transmission. The spare parts are too numerous to list, but includes a manual transmission, engine, turbo, window, doors, wheels, etc. If you are looking for a "sleeper" hot off the line car- this is it! Both cars and all parts have been in storage for over 9 years. Serious inquiries only: rexepoo@yahoo.com (Maserati in the subject line) for more pictures or questions. 850-8383. $9,750.00 takes it all!
85 Biturbo E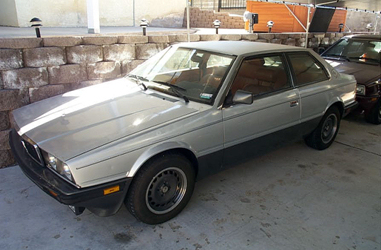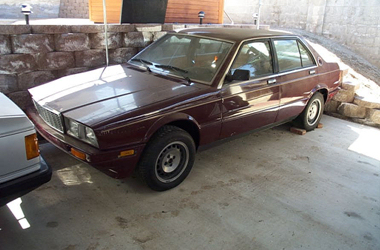 A higher performance version of the Biturbo, called the E model, was offered during 1985 only. The E model had two-tone paint, firmer and shorter springs, a stiffer front anti-roll bar, re-valved shocks, larger tires (205/60-14 instead of 185), and different wheels. The Biturbo E had the options of either dual air-to-air or air-to-liquid intercoolers, the latter made by Spearco. With the dual air-to-liquid intercoolers, the engine produced 205hp@5250rpm and 260lb-ft at 3500 rpm. The Biturbo E sprinted to 60mph in about 6.3 seconds.
For the 1986 model year, the 2 door coupe was temporarily dropped from the lineup and two new models arrived: the Biturbo Spyder, a convertible, and the 4-door Biturbo 425. All cars were equipped with automatic transmissions and power steering, and water-cooled IHI turbochargers replaced the previous oil-cooled units, which tended to improve the reliability of the turbochargers. A slightly smaller Weber carburetor was fitted. The Spyder had a shorter wheelbase than the earlier coupe and seats for only 2 people, but the mechanicals were much the same. The 4-door sedan had a slightly stretched wheelbase and increased height over the coupe.